Pro Wax
HIGH EFFICIENCY CHAIN WAX
HIGH EFFICIENCY CHAIN WAX
HIGH EFFICIENCY CHAIN WAX
Long lasting
Water resistant
Watt saving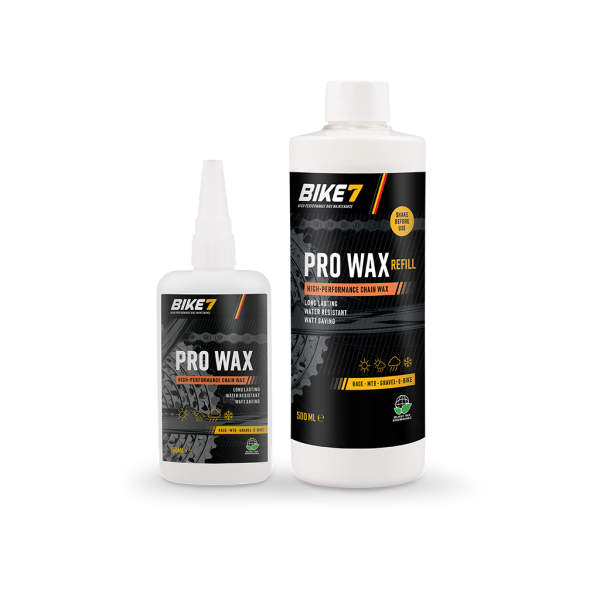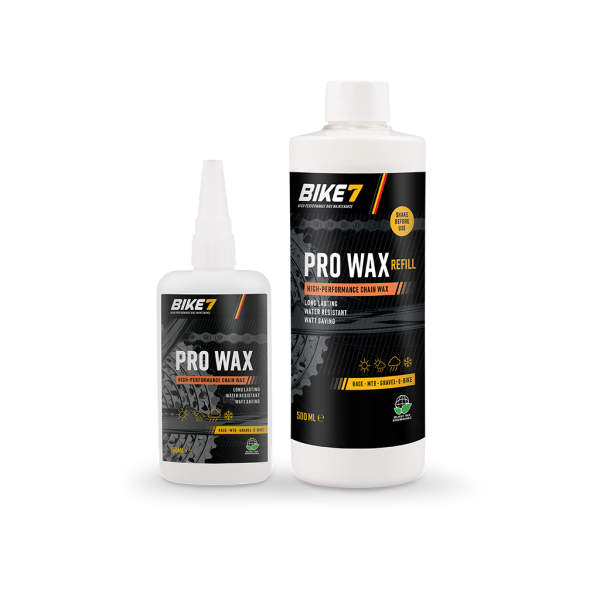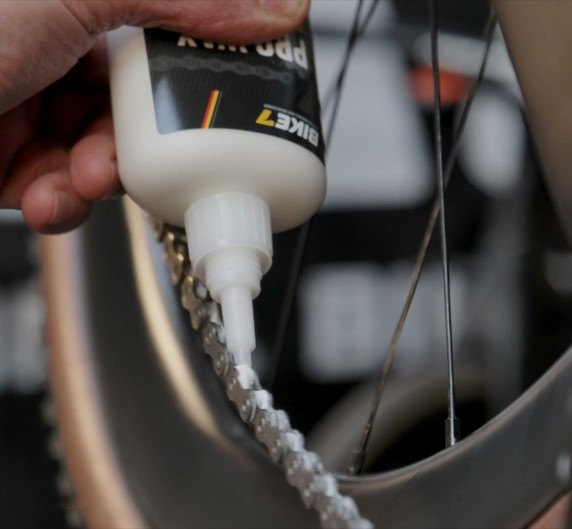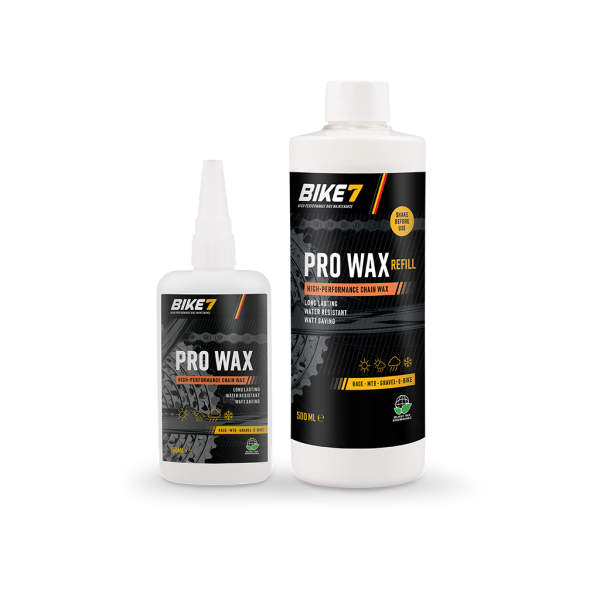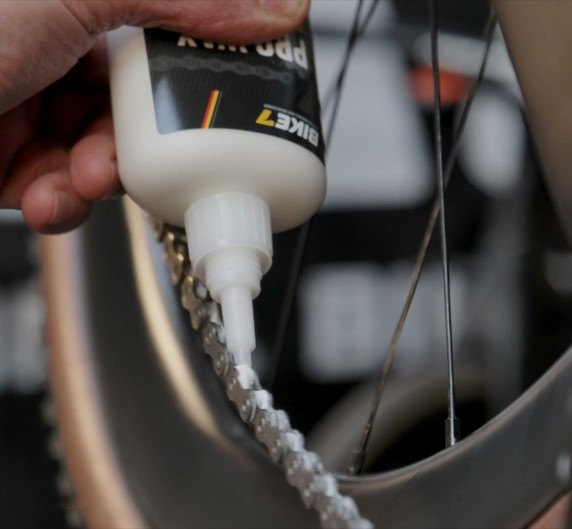 Packaging
977230924 - Pro Wax - bottle 150ml
977240924 - Pro Wax Refill - bottle 500ml
Features
Nothing stops Bike7 Pro Wax! Sand, mud, dust or water, it resists everything and keeps your chain clean! Whether you're a road rider, mountain biker, gravel enthusiast or just a cyclist, with Pro Wax you'll find efficiency and performance!
Our solvent-free wax emulsion has been specially formulated to give you optimum chain lubrication, precise shifting and smooth pedalling.
No more black chains! This dry, biodegradable lubricant keeps your chain clean. Maintenance is reduced to a minimum, while the use of degreasers is drastically reduced.
Lubrication happens inside the link! Our Pro Wax is perfectly formulated to provide the ideal fluidity to completely lubricate the inside of each chain link. The unrivalled effectiveness of Bike7 Pro Wax ensures optimum lubrication, reduces friction to a minimum, saves you precious watts and considerably extends the life of your chain!
Ride all year round with Pro Wax? It's possible! Whether it's the middle of winter or the height of summer, our formula is resistant to a wide range of temperatures and water, and will continue to provide optimum lubrication for your chain.
Find out how to use our Pro Wax in the "Instructions" section below.
Instructions
2 layer method for first treatment of the chain or whenever you want to completely renew Pro Wax:

First clean the chain (also new chain) with Degrease or Chain Clean (cf How to use Degrease / Chain Clean). When the chain is dry, apply a first coat of Pro Wax in the centre of each link along the whole length of the chain as you turn it. Once dry, turn the chain without shifting. Then let Pro Wax dry for 3 hours.
After those 3 hours or more, apply a second layer in the same way as the first and let it dry again. This way your chain is perfectly treated and each link is well saturated with Pro Wax. Now it can withstand many kilometres.

Pro Wax for racing bikes, E-bikes and Commuters:

After your chain has been treated, you can ride for about 3OO km on the road with a noiseless transmission that also stays very clean without touching it.
After those few hundred km, you only need to do an "intermediate maintenance". In other words, just wipe your chain and cassette clean and dry with a cloth and apply one coat of Pro Wax to the middle of each link. Let it dry for 2 hours and you are off again for 300Km.
If you want to clean your bike at the same time, do this with Bike7 Clean and water and apply Pro Wax after you have dried the chain.
You can do this a few times and before you completely renew Pro Wax.

Pro Wax for MTBs, E-mtb's:

Pro Wax can stand up to the toughest disciplines and even the longest marathon distances. Keeping a bottle in your pocket "for when you need it" is a thing of the past.
Very simple: As long as you only clean your bike with water and Bike7 Clean, after drying it you can just go over the chain with a dry microfibre cloth and possibly blow your chain and transmission dry. Then you only apply one layer of Pro Wax and let it dry.
After a few weeks (depending on weather conditions, number of rides), or if you feel your chain is running less smoothly, completely refresh Pro Wax by completely degreasing the transmission and using the two-coat method.

Riders usually completely renew Pro Wax before every important race in order to save maximum energy (Watts) in the race. (in order to lose little power through friction).
Technical information
Safety documentation
Technical documentation
Appearance at 20°C: liquid.
Smell: characteristic.
pH value: 8.0.
Melting point: 0°C.
Boiling point: 100°C.
Relative density at 20°C: 0.900 kg/L.
Water solubility: 100%.
Dynamic viscosity at 20°C: 90 mPa.s.
Kinematic viscosity at 40°C: 97 mm²/s.
Volatile organic compound (VOC): 0.000 g/L.
Shelf life: 24 months, in original packaging, kept dry, cool and frost-free.
Safety measures: please consult the safety data sheet.