Protect
TOTAL BIKE PROTECTION
TOTAL BIKE PROTECTION
TOTAL BIKE PROTECTION
Refreshes paintwork
Water and dirt repellent
Micro lubrication for components
Glossy and matt finish friendly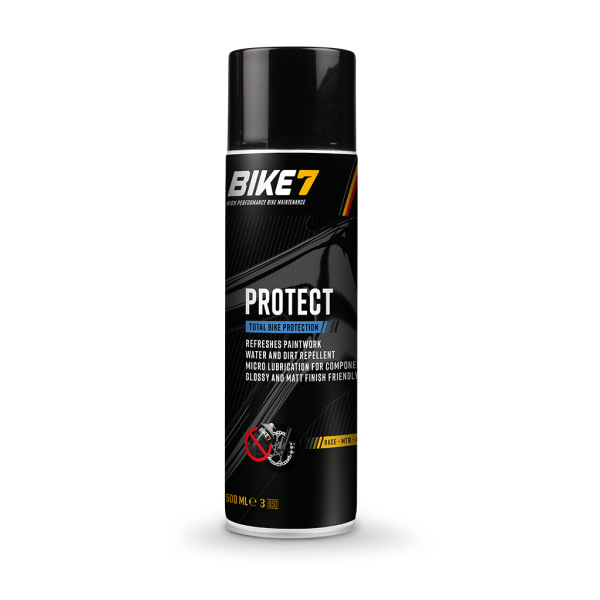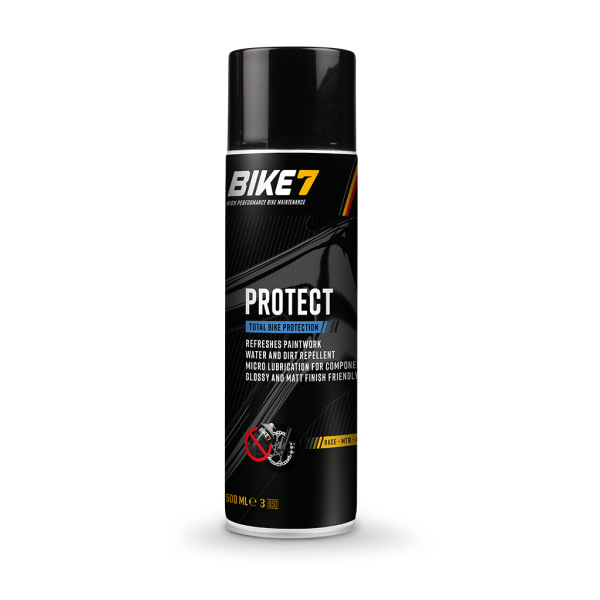 Packaging
977110924 - Protect - 500ml
Features
Once your bike is completely clean you will want it to stay that way.
Treating with Protect ensures a wafer-thin protective film over your whole bike.
This water-repellent top layer lubricates as it protects and is the ideal finishing touch after maintenance.
Applications
Repels moisture with a transparent protective coat.
Reduces the build-up of dirt.
Prevents creaking and squeaking, especially in hard to reach places.
Protects against corrosion and oxidation.
Safe to use on various materials such as stianless steel, aluminium, titanium, lacquer, rubber, carbon fibre, ... .
Instructions
After washing, first cover your brake discs with microfibre cloths and then spray Bike7 Protect all over the bike while it is still wet. Then rub your bike dry with a microfibre cloth. Afterwards use Bike7 Protect to lubricate the small parts.
Technical information
Safety documentation
Detergent sheet
Technical documentation
Colour: colourless.
Odour: sweet odour.
Boiling point: 187°C - 211°C.
Flashpoint: 67°C.
Spontaneous combustion: 255°C.
Water solubility: insoluble.
Shelf life: 3 years.