Chain Clean
POWERFUL CHAIN & TRANSMISSION CLEANER
POWERFUL CHAIN & TRANSMISSION CLEANER
POWERFUL CHAIN & TRANSMISSION CLEANER
Fast and safe
For chains, derailleurs, cogs and chainrings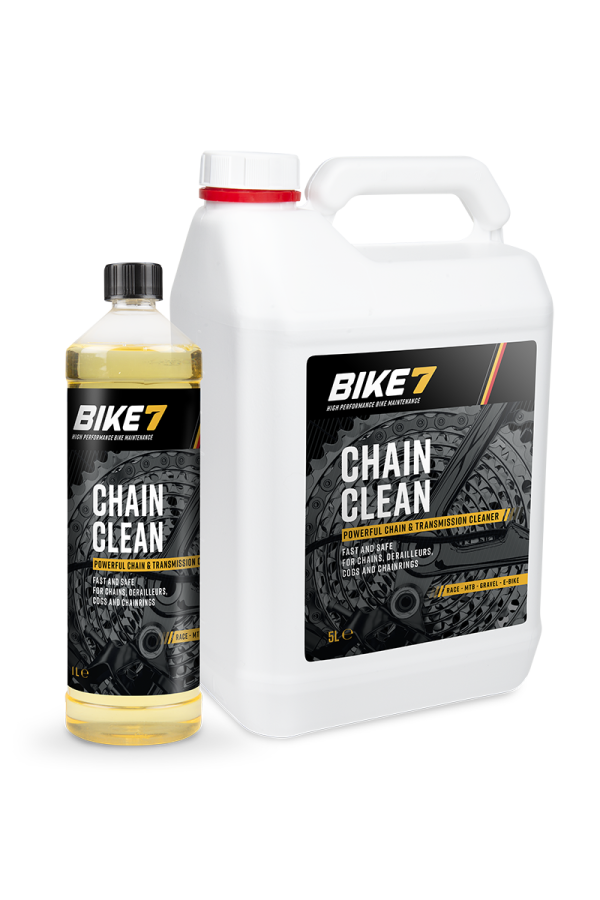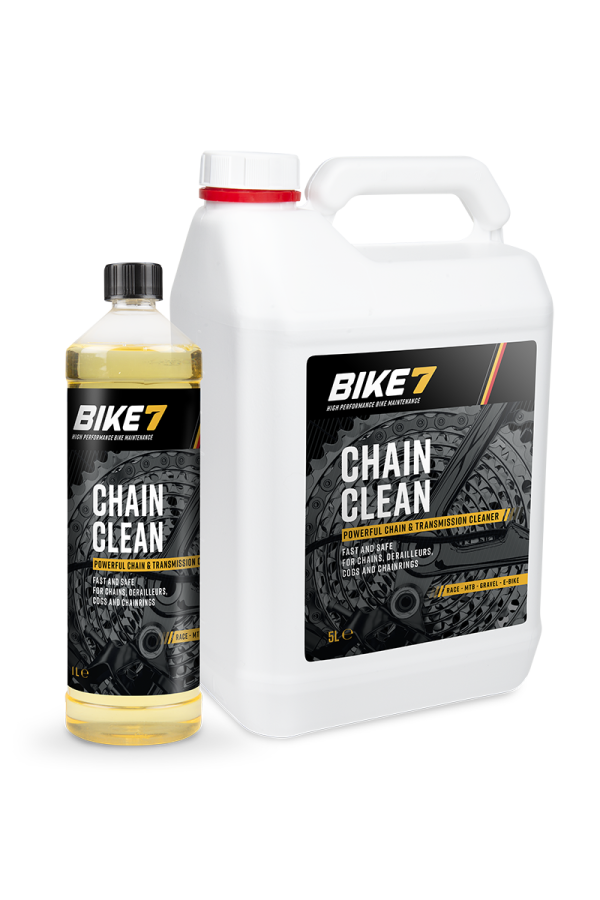 Packaging
977270924 - Chain Clean - bottle 1L
977280924 - Chain Clean - can 5L
Features
Highly effective cleaner and degreaser for chains, derailleurs, cassettes and chainrings.
Regular use will prolong transmission life.
Instructions
If you just want to clean the chain:
Spray Chain Clean on the cassette, chain, crankset and derailleur wheels while turning the chain. Letting it soak in for about thirty seconds is enough. Then rub your transmission with a dry microfiber cloth and/or blow your transmission dry with compressed air. (That way Chain Clean leaves a protection against corrosion).
If you want to clean your whole bike:
Apply Chain Clean in the same way before cleaning your bike (if it is still dry). Twist the chain a little more. Then rinse your transmission with running water. You can now continue cleaning your bike (cf Bike7 Clean). After cleaning your bike, apply a new layer of oil to the chain or 2 layers of ProWax (cf ProWax).
Technical information
Safety documentation
Technical documentation
Form: liquid.
Colour: transparent orange.
Odour: distinctive.
Viscosity (at +20°C): 1mPa.s.
Relative density (at +20°C): 0,790 kg/L.
Spontaneous combustion: +230°C.
Vlampunt: +73°C.
Water solubility: insoluble.
Vapour pressure (at +20°C): 800 Pa.
Boiling point/boiling range: 173°C – 240°C.